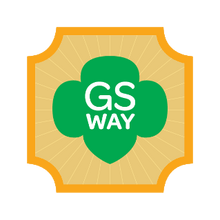 Ambassador Girl Scout Way
is a badge earned by
Ambassador Scouts
. Girl Scout Ambassadors are perfectly poised to help the sisterhood fly into its second powerful century. Although the badges, books, and presidents have changed along the way, some things have always been the Girl Scout Way: through song and celebration, service and action, the Movement continues to educate, inspire, and bring people together. Share the legacy in this badge as Ambassadors spread their wings and launch Girl Scouting into the future.
Use song to bring people together or to spread a message
Celebrate World Thinking Day
Share sisterhood around the world
Leave your world better than you found it
Enjoy Girl Scout traditions!
When a Girl Scout Ambassador earned this badge, she will know how to use the Girl Scout ways and traditions to make the world a better place.