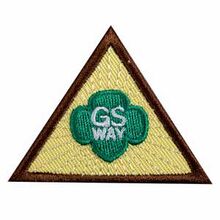 The Brownie Girl Scout Way Try-it is part of the "Legacy" badge set introduced in 2011. This badge replaces the older Girl Scout Ways (Brownie Try-it).
Step 1: Sing everywhere
Edit
Singing is a Girl Scout tradition. We sing during meetings, around the campfire and at special events. Of course, there is the magical Brownie Song that, if your girls do not know it, this would be the perfect time to teach them! 
Step 2: Celebrate Juliette Low's birthday
Edit
The founder of the Girl Scouts of America was born on October 31, 1860. You can have an entire meeting celebrating who she is and what she accomplished. You can tie in Step 3 Share Sisterhood by creating a Swap to give to a sister troop. Since this is a Girl Scout tradition, you are also completing Step 5, Enjoying Girl Scout Traditions.

Here are some resources for you to use in planning a celebration.
Activities to Celebrate Girl Scout Founder's Day for All Levels
Celebrating Juliette Gordon Low and Girl Scout Founder's Day
My Girl Scout Founder's Day Pinterest Board
Girl Scout Traditions
To make a birthday Swap, you can follow these directions from Making Friends on how to do a slice of cake or these directions for making a cupcake Swap.

You can also make your own Swap with these cupcake charms, safety pins and pony beads.
Do something as a troop (like in Step 2, making a SWAP for another troop). Or you can make a troop banner or poster for meetings or do a quick Girl Scout skit.
Step 4: Leave a place better than you found it
Edit
This is an easy step to complete. Leave the place where you meet even neater than how you found it. Maybe wipe off the tables, not just take your belongings off of it. Sweep the floor or leave a note signed by all the girls thanking the person for letting them use the room for their meetings.
Step 5: Enjoy Girl Scout traditions
Edit
Finally, close your meeting with the Friendship Circle, Friendship Squeeze and sing "Make New Friends".