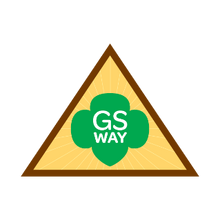 Brownie Girl Scout Way
is a badge earned by
Brownie Scouts (USA)
. Girl Scout Brownies are part of a sisterhood. Brownies all over the world share traditions and do good things to make the world a better place. In this badge, try some special Brownie traditions (some that Girl Scouts have been sharing for 100 years!)—and, of course, have a world of Brownie fun.
Sing everywhere
Celebrate Juliette Low's birthday
Share sisterhood
Leave a place better than you found it
Enjoy Girl Scout traditions
When a Girl Scout Brownie has earned this badge, she will know how to practice and share the Girl Scout way.