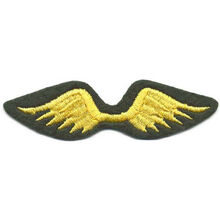 Girl Scout Brownie Wings show that a girl has completed her years as a Brownie. She is ready to "fly up" to Junior Scouts. The wings are worn on the Junior, Cadette, Senior and Ambassador sash or vest, centered horizontally directly under the Junior Aide Award, or if she does not have that, directly under the Bridge to Junior Award.
The Brownie Wings are worn on the Girls 11-17 vest or sash directly under the Membership Stars and Personalized ID Pin and are often given at year-end award ceremonies.
Ad blocker interference detected!
Wikia is a free-to-use site that makes money from advertising. We have a modified experience for viewers using ad blockers

Wikia is not accessible if you've made further modifications. Remove the custom ad blocker rule(s) and the page will load as expected.