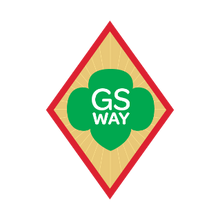 Cadette Girl Scout Way
is a badge earned by
Cadette Scouts
. Girl Scout Cadettes are carving out their unique place in the world, using their intuition and special talents to blaze a trail that's all their own. The Girl Scout Way is another compass that can help guide a Girl Scout: the proud traditions offer a strong foundation to build a Girl Scout's dreams as part of a worldwide sisterhood. So dive right in and get started singing, celebrating, and bringing people together as the Cadettes join hands with thousands of other Cadettes to blaze the Girl Scout trail into the new century.
Lead a group in song
Celebrate Girl Scout Week
Share sisterhood through the Girl Scout Law
Leave a camp better than you found it
Enjoy Girl Scout traditions!
When a Girl Scout Cadette has earned this badge, she will know how to use the Girl Scout ways and traditions to make the world a better place.