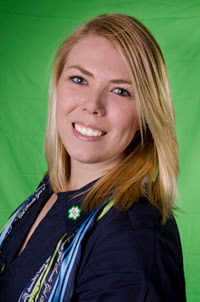 Cassie Rowan
is a former Nassau County Girl Scout, a 2006 Gold Award Recipient and the Interactive Media Coordinator for the
Girl Scouts of Nassau County
.
In 2002, when she was working on her Silver Award, she and three of her Girl Scout friends decided they wanted to impact younger girls in their community by bringing them the joy of Girl Scouting. They decided they would run a Daisy Troop.  Being new to the Girl Scout Leader world, the thought of running an hour long troop meeting was daunting.  Cassie and her friends wondered what they would do with 10 Daisies for a whole hour. Now, most seasoned Girl Scout leaders know that there are many components that go into a Girl Scout meeting because the meeting isn't all just fun and games; there is also Troop business that needs to be attended to like troop dues and troop decisions, but to her and her friends "new" leaders they weren't sure what needed to be included.  Cassie's Girl Scout Leader taught her and her friends what it meant to be a leader and all the components which should be included in a Girl Scout Troop Meeting.  It is important that girls learn about the Girl Scout Promise and Law, while building courage, confidence, and character.  A Girl Scout Troop Meeting should be comprised of 6 parts—Pre-meeting Activity, Opening, Girl Scout Circle-Business, Activity, Clean-Up and Closing. (Snack is optional).  Of these 6, the Opening, Clean-up and Closing should remain the same. 
List of Basic Components to a Girl Scout Troop Meeting:
Pre-Meeting Activity – an activity for girls to do before the meeting; should be simple and easy so no direction needs to be given.
Opening – can consist of a flag ceremony and/or a Girl Scout song, along with the Girl Scout Promise
Troop Business— this is the part of the meeting where dues are collected and troop decisions are made; for my silver award Troop we had a Daisy Circle
Activity— this is the time for activities that will allow girls to build skills, try new things and explore their interests.  The Girl's Guide to Girl Scouting and the Girl Scout Journey books are great resources for activities and badges to work on during this time.  
Clean-up—this is the time which should be allotted to clean up your activity… This is important because a Girl Scout always leaves a place cleaner than she left it. 
Closing— this is the perfect time for girls to reflect on their Girl Scout experience and what they learned at the troop meeting; this is also the time for having the girls gather in a Friendship Circle to say goodbye for the day.