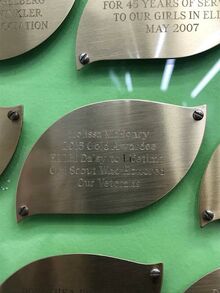 Friendship Tree Ceremony - Melissa McHenry was a celebration tribute of Girl Scouting and friendship when the Girl Scouts of Nassau County placed on the unveiling of the leaf on the Friendship Tree in honor of ELLM Lifetime Member and 2015 Gold Awardee Melissa McHenry. The ceremony took place on January 3, 2018.
Welcome and Introduction - Debbie O'Connor, ELLM SUVM
The Girl Scout Promise
On my honor, I will try to serve God and my country, to help people at all times and to live by the Girl Scout Law.
The Girl Scout Law
I will do my best to be: honest and fair, friendly and helpful, considerate and caring, courageous and strong, and responsible for what I say and do, and to respect myself and others, respect authority, use resources wisely, make the world a better place, and be a sister to every Girl Scout.
Make New Friends
Make new friends, but keep the old. One is silver and the other's gold. A circle's round, but has no end. That's how long I want to be your friend.
We will then adjourn to conference rooms for sharing of memories of Melissa, led by Pat Hickey, ELLM Cadette, Senior, Ambassador Consultant and Leader of Troop 2188.
Refreshments will follow.