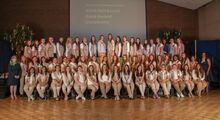 Girl Scouts of Nassau County Gold Award 2014 Ceremony honored 70 Girl Scouts from Nassau County, New York who earned their Girl Scout Gold Award in the 2013-2014 Girl Scout year. These Girl Scouts wove at least 80 hours of community service and advocacy into their busy schedules when they developed their Gold Award "Take Action" projects. Each project addressed an issue that the girl felt was important in her community. The completed project entails identifying an issue, investigating the issue, building a team, creating a plan that contains a sustainable and measurable solution, carrying out the plan and educating and inspiring others to act.
About the Gold Award
Edit

Main article: Gold Award
The Gold Award, the highest award in Girl Scouts, focuses on Senior and Ambassador's interests and personal journey through leadership skills and service. The Gold Award requirements were updated in the fall of 2010. Fulfilling the requirements for the Girl Scout Gold Award starts with completing two Senior or Ambassador Journeys, or having earned the Silver Award and completing one Senior or Ambassador Journey. Each Journey you complete gives you the skills you need to plan and implement your Take Action project. After you have ful lled the Journeys requirement, 80 hours is the suggested minimum to take the steps necessary to achieve your goal. This prestigious award is de nitely a plus when applying to colleges and financial scholarships. A Girl Scout who has earned her Gold Award automatically rises one rank in any of the U.S. military branches. 
2014 Gold Award Recipients
Edit
Name & Project

| | | |
| --- | --- | --- |
| Kaitlyn | | Making Hempstead Tpke Safer |
| Maria | | Welcome to BPC |
| Melissa  | | Prevent Cyber-bullying |
| Sarah | | Operation Healthy Eating |
| Lynne | | Empowering You with Environmental Education |
| Pollyana | | Safe Driving |
| Jamie | | Growing Up Is Hard To Do |
| Amanda | | Concussed? |
| Caitlin | | Global Religions |
| Casey | | Food Allergy Awareness |
| Celeste | | Camp "R" Us Dance Camp |
| Jennifer | | Texting and Driving Awareness |
| Sarah | | Easy Meals From A Can |
| Ashley | | United We Stand Divided We Fall |
| Tashila | | Wireless Weekdays |
| Erin  | | Kids in Motion |
| Krista | | Pick Your Pet |
| Laura  | | What do you know about Computers |
| Meaghan | | Scrapbook for Seniors |
| Megan | | Find Your Voice |
| Alyssa | | Mock Trial Team at Sacred Heart Academy |
| Brooke | | Safety & Sanitation for Community Church's Children |
| Caitlin | | The Picnic Project |
| Elisa | | Digital World Connection |
| Emily | | Sports Done Different Fair |
| Genevieve | | Get Safe Girls |
| Christine | | International Outreach |
| Lauren  | | The Environmental Care Operation |
| Samantha | | Affordable Activities for Families |
| Caeley  | | Science Fair and Expo |
| Christine | | Tiles for Dignity |
| Emily | | Sophia's Garden Shed |
| Emma Grace | | Environmental Awareness |
| Kellie | | Daleview Days |
| Samantha | | A.T.O.M (A Team of Mentors) |
| Catherine | | Together Stop bullying in its tracks |
| Cara | | Reading and Math Improvement Program |
| Danielle | | Through the Eyes of a Survivor |
| Noor | | A Better Me |
| Ashley | | Art Heals the Heart |
| Danielle | | Creating a 3D Garden; |
| Gina | | Safe Haven Changing a Life One At A Time |
| Kaitlyn | | Pet Adoption Day |
| Melanie | | Ocean Safety Video |
| Emily | | "Tackapausha Tots" Animal Habitats |
| Susan | | A Recipe for a Healthy Life |
| Jenna | | A walk through the past |
| Christina | | Creating a Food Pantry |
| Sabrina | | Kids Kick Back |
| Emily | | Changing your Teaching Style  |
| Erin  | | Homecoming: Track Style |
| Sabrina  | | For Kids, By Kids |
| Sarah | | Multi-Cultural Storytime |
| Alannah | | Brick Walkways |
| Bridget | | World of Words |
| Christina | | Community Service Website Link |
| Clarissa | | Tech Helpers |
| Elizabeth | | Cleaning the Bay |
| Grace | | Confident Girls in Math and Science |
| Kaylee | | Help the Dogs |
| Lily | | Scrapbook Connection |
| Alyssa | | Goodwill Garden |
| Adriana | | Initiating a Gender Equality Club |
| Maria | | Fashion Club |
| Kelly | | Spring Into Math |
| Carlye | | A Cleaner School |
| Jessica  | | Learn to Sew |
| Megan | | How to use a computer The Basics |
| Monica | | Adopt Don't Shop |
| Sabrina | | Sports Initiative |