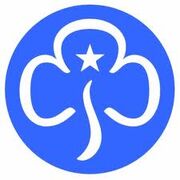 Girl Guides of the UK is the national Guiding association of the United Kingdom. Girl Guides of the UK was founded in 1910 and currently has 

538,000

+ members. It's headquarters are located in London.
Girl Guides of the UK was founded by Anges Baden-Powell, the sister of Robert Baden-Powell, when many girls tried to join Boy Scouts, a boy-only organization. He chose the name "Guides" because it reminded him of his millitary background. 
Rainbow Guides (ages 5-7)
Brownie Guides (ages 7-10)
Guides (ages 10-14)
The Senior Section (ages 14-25)
-Rainbows-
I promise that I will do my best,
to think about my beliefs, 
and to be kind and helpful.
-Brownies, Guides, and The Senior Section-
Edit
I promise I will do my best;
To be true to myself and develope my beliefs, 
To serve the Queen and my community,
To help other people and
To keep the Guide Law
1) A Guide is honest, reliable and can be trusted.
2) A Guide is helpful and uses her time and abilities wisely.
3) A Guide faces challenges and learns from her experiences.
4) A Guide is a good friend and a sister to all Guides.
5) A Guide is polite and considerate.
6) A Guide respects all living things and takes care of the world around her