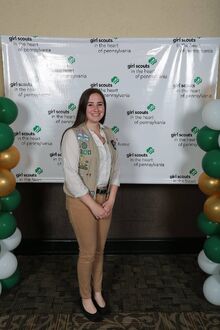 Jennifer Nickas
is a former Girl Scout in the
Girl Scouts Heart of Pennsylvania
and a 2017 Gold Award Recipient.
Jennifer's Gold Award Project Picnic Ground Makeover, consisted of constructing a water wheel to replace the wishing well used each year for the LOVE Fund. The old wishing well was used by picnic attendees to toss their change into, and the money collected from the well was given to the LOVE Fund.
This fund collects money to help community members who are in need. Jen believed that the well could be replaced with a moving water wheel, which could potentially lead to an increase in the donations for the LOVE Fund. Jen built, stained, and made a sign to accompany her water wheel.