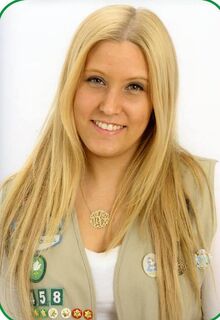 Katelyn Kaim is a former Nassau County Girl Scout and former member of Troop 2458. In 2015, she received her Girl Scout Gold Award.
Katelyn's Girl Scout Gold Award Take Action Project, Maximize Recycling Program, addressed the need for recycling in her community. 
After noticing her community's lack of containers for recyclable waste, Katelyn advocated to both the Lynbrook Chamber of Commerce and the Village of Lynbrook Department of Public Works for the placement of such bins. Thanks to Katelyn's efforts, both agreed to fund the purchase of recycling bins to be placed around the village of Lynbrook. 
Katelyn then developed an educational campaign that informed the residents about the importance of the new bins. Posters and fact sheets were distributed to the Chamber of Commerce, coaches of community teams, and the Lynbrook Library.