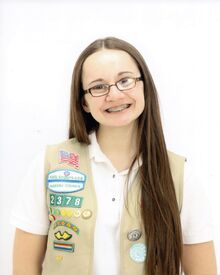 Katie Lenz is a former Nassau County Girl Scout, 2015 Gold Award Recipient and former member of Troop 2378.
Katie joined Girl Scouts when she was a Daisy in kindergarten and the experience helped her grow into a beautiful, young and independent woman. She says, "Girl Scouts has given me the courage to try new things, meet new people, made me confident in my own abilities and help me grow into a young woman of strong character."
As a Girl Scout media girl, she learned to speak confidently and grow my leadership skills. In addition to being on a cookie box, she had appeared on TV and recorded a public service announcement for radio. Earning her Girl Scout Silver Award, she ran a weeklong public speaking workshop for girls, allowing her to pass on the skills she had learned to younger girls.
Girl Scouts had given Katie the courage to try new things and meet new people, made her confident in her own abilities, and helped her grow into a young woman of strong character through all of the opportunities it had offered her. 
In 2014, she traveled to Salt Lake City, Utah, to attend the Girl Scout National Convention and participated in the Girl Scout Leadership Institute, which made Katie more interested in service projects that could benefit her community. Through the Theatri-Gal program, she got to practice my improvisation and performance skills.
In 2015, Katie received her Girl Scout Gold Award - the highest honor for a Girl Scout. Katie's Girl Scout Gold Award Take Action Project, St. John's Nursery Program, addressed that there was no age-appropriate Sunday School program available for children aged 3-5 at her church.
Katie rallied the congregation for volunteers and created a nursery program with weekly themed lessons that matched those of the main Sunday School. She also developed a page on the church website filled with additional activities for the children to do. 
The St. John's Sunday School Nursery Program Katie created not only provided a much-needed service, but also helped to create community connections for St. John's youngest members.
External links
Edit
http://liherald.com/lynbrook/stories/The-hairnet-that-changed-my-life,83663