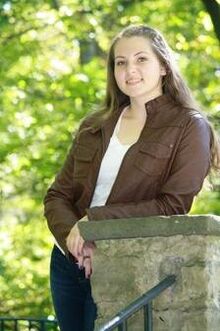 Sabrina DeVos
is a former American Girl Scout and a 2015 Gold Award Recipient. In 2004, she suffered from celiac disease; a common bowl disorder caused intolerance to gluten.
Being a Girl Scout, Sabrina decided to take action. For her Girl Scout Gold Award project, she developed and executed a gluten-free camp close to her home exclusively for children with celiac disease, and now for the second straight summer, she's helping to run it.

Sabrina's camp has garnered much local media attention, as around 30 children between the ages of 8 and 15 attended the camp at Comstock in Ithaca last year. This year she's hoping to double that number, expanding the offering to boys and girls between the ages of 7 and 16.

Sabrina credited Girl Scouts as a factor in her success. "As a Girl Scout, I've gained leadership and organizational skills, and feel I now have the tools to organize this great experience."

When you invest in Girl Scouts, you support girls like Sabrina who have great ideas for helping people and who need our support to develop the courage, confidence, and character to bring their ideas to life.

This is why Girl Scouts had launched the ToGetHerThere campaign, the largest fundraising campaign for girls in history—to help ensure that girls like Sabrina can dream big, follow their passions, and reach their greatest potential, all while improving their communities and making the world at large a better place. 
Learn more about Sabrina's camp here.