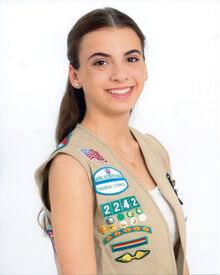 Sarah Romanelli is a former Nassau County Girl Scout, former member of Troop 2242 and received her Gold Award in 2017.
Sarah made headlines again for her continued work on Music Inspires! a program she developed more than a year ago as part of her Silver Award project.
Sarah became involved in theatre at age ten, and estimated that she's been in upwards of 30 performances since. She said that performing teaches things you can't learn elsewhere. "It showed me how to have work ethic, how to be passionate, how to work with others and be creative," she said. "You don't get that in a classroom." With Music Inspires! she sought to share that experience with others.
Music Inspires! is meant to promote inclusiveness, and to help students be more self-confident. The program first debuted in July, 2016, and culminated in a series of musical revue performances at the Oceanside Library, high school and Ronald McDonald House. Romanelli estimates that she has spent over a hundred hours on the project, and as part of it worked with 22 kids and teenagers, between the ages 9 and 20, helping them develop their theatrical abilities through it.