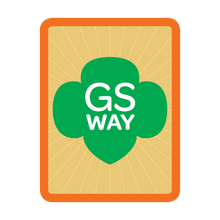 Senior Girl Scout Way
is a badge earned by
Senior Scouts
. Girl Scout Seniors might feel like life is a balancing act. On one hand, she's holding tight to the comforts of home and what's familiar—and on the other, she's excited to open herself up to the possibilities in the larger world. In this badge, she will share the Girl Scout way in her environment and bring together generations of Girl Scouts.
Explore Girl Scout music
Help younger Girl Scouts celebrate a special day
Spread sisterhood through the Girl Scout Law
Leave your environment better than you found it
Enjoy Girl Scout traditions!
When a Girl Scout Senior has earned this badge, she will know how to use the Girl Scout ways and traditions to make the world a better place.