The Girl Scout Seniors are the fifth level of Girl Scouts. Ninth and tenth graders are in this level.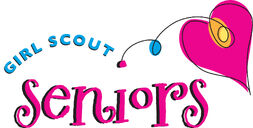 They wear the same uniform as Cadettes—however, the disks for their membership stars are red and their badges are a rectangular shape.
Patches and Pins
Edit
There are about 44 patches and pins. Here's a list of them all!
Cadette/Senior/Ambassador Insignia Tab
World Trefoil Pin 
Leader in Training Pin
Counselor In Training Pin
Counselor in Training II Pin
Girl Scout Gold Award
Girl Scout Pin (contemporary or traditional)
Membership Numeral Guard
Ambassador Journey Award Pin or Patch
Senior Journey Award Pin or Patch
Leader In Training Award
Counselor In Training Award
Senior Program Aide Award
Cadette Program Aide Award
Cookie Sale Activity Plan
Cadette Journey Award Patch Set
Cadette Leadership in Action Award (LIA) Patch
Interest Project Awards
From Dreams to Reality Award Patch
Girl Scout Silver Award
Career Exploration Pin
Senior Troop Assistant Pin
Community Service Bar
Senior Leadership Pin
Cadette Leadership Pin
Cadette Challenge Pin
Senior Challenge Pin
Bridge to Ambassador Girl Scouts Award
Bridge to Senior Girl Scouts Award
Bridge to Cadette Girl Scouts Award
Cadette Program Aide Pin
Senior Program Aide Pin
Personalized ID Pin
Membership Star
Disc for Membership Star - White
Disc for Membership Star - Red
Disc for Membership Star - Blue
Iron-On Troop Numerals
Troop Crest
Girl Scout Council Identification Set
Wavy American Flag Patch
Safety Award Pin
Patrol Leader's Cord
Ad blocker interference detected!
Wikia is a free-to-use site that makes money from advertising. We have a modified experience for viewers using ad blockers

Wikia is not accessible if you've made further modifications. Remove the custom ad blocker rule(s) and the page will load as expected.